Location: Yale Center for British Art Connecticut USA
Original Size: 243.8 x 333 cm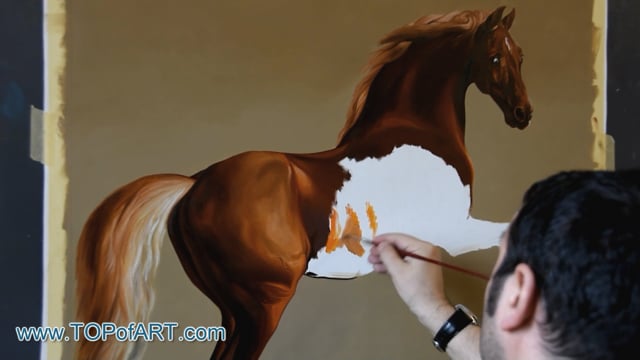 An Illustration of the Quality of George Stubbs Painting Reproduction - A Video Demonstration
View a video that showcases the step-by-step creation of George Stubbs painting in our TOPofART studio. This video provides an in-depth look into the intricate process of creating a hand-painted oil reproduction of a classic masterpiece.
2 Reviews
5.00 Overall rating
---

Gygy
Verified Reviewer
22nd March 2014 10:01am
The son of a currier, Stubbs was born in Liverpool and was mostly self-taught as a painter and engraver. More a natural scientist, like Wright of Derby, Stubbs was driven by his interest in anatomy rather than a desire to pursue the tradition of sporting pictures, a little-regarded genre in the Royal Academy's hierarchy of painting. His approach to painting was through scientific study, rather than through the Academy and the antique. Apart from a trip to Italy in 1754, he spent most of the 1740s and 1750s in the North of England, studying human and equine anatomy through dissection; in 1751 Dr. John Burton's Midwifery was published, with illustrations engraved by Stubbs. Ensuing publications would win him further critical acclaim for scientific accuracy and the quality of his animal pictures. Of particular interest were the results of Stubbs's eighteen months of study of equine anatomy, which were published in 1766 as The Anatomy of a Horse.
Success as an animal painter quickly followed; although initially excluded from the Royal Academy, he would exhibit with the Royal Society of Artists, and subsequently with the Royal Academy, for nearly fifteen years. The upper classes were Stubbs's main source of patronage, the racing noblemen anxious to have the most fashionable sporting painter of the day immortalize not only their nobility within nature but also their racehorses, jockeys, hounds and grooms. At times his compositions are forced, demonstrative more of his analytical ability than of his artistic talent, where strings of horses and dogs are carefully placed in a strictly observed landscape but with little sense of purpose to pull them together into a whole.
In line with the Grand Style, he expanded on the theme of the lion preying on the wild horse, a favorite subject matter in antique sculpture, which he may well have encountered on his visit to Italy. A Lion Devouring a Horse is one of seventeen works by Stubbs on this subject. He painted every wild animal he came across zebra, moose, rhinoceros - with the exactitude of the natural scientist and experimented with techniques, using different types of paint - such as enamel - and surfaces such as copper and earthenware panels made for him specially by Josiah Wedgwood, the industrial innovator who actively sought collaboration with scientifically minded artists such as Stubbs and Wright.

Leigh
Verified Reviewer
20th March 2014 10:59am
Just wanted to follow-up and let you know that I received the painting and it looks incredible. I had it stretched and framed, and it now hangs beautifully in my living room. Thanks for your professionalism and good work. I have been recommending your company to others I know who are interested in art reproductions so that they can be assured of the same rewarding experience that I had!
Thanks again