Location: Prado Museum Madrid Spain
Original Size: 209 x 173 cm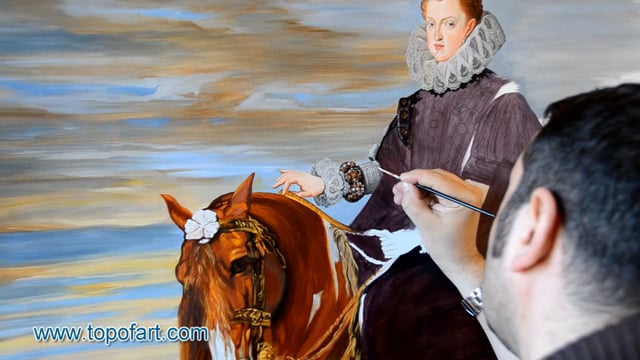 An Illustration of the Quality of Velazquez Painting Reproduction - A Video Demonstration
View a video that showcases the step-by-step creation of Velazquez painting in our TOPofART studio. This video provides an in-depth look into the intricate process of creating a hand-painted oil reproduction of a classic masterpiece.
1 Reviews
5.00 Overall rating
---

Gygy
Verified Reviewer
16th March 2014 11:58pm
Prince Balthasar Carlos on Horseback
Painted between 1634 and 1635, the composition is intended to be immediately and swiftly perceived. There is the general diagonal disposition from lower right to upper left, and the dynamic reversed curves of the horse; and in the middle the young prince in ceremonial dress: star-shaped with rays projecting to the horse's mane, harness and tail. The whole explodes against the oblique hollow of a steep-sided valley and in the distance a receding mountain widens the background that fans out under a coruscating sky, where grey and white clouds pile on top of one another. The stylistic themes are an assembly of headlong, fugitive motifs, made concrete by the brush-work. This is divided, directed, flying and sometimes (as in many other paintings by the master) reaching the point of broken impastos, thrown directly on the canvas for passionate, accidental effects.