Location: Prado Museum Madrid Spain
Original Size: 318 x 276 cm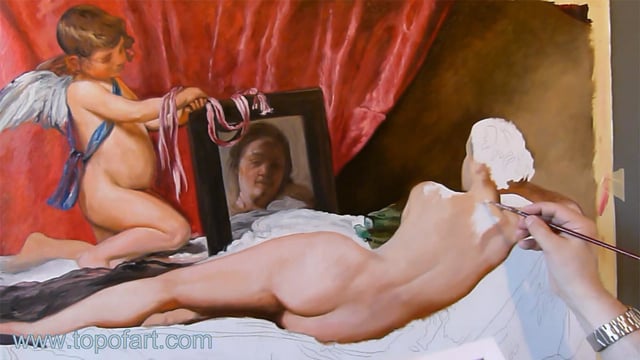 An Illustration of the Quality of Velazquez Painting Reproduction - A Video Demonstration
View a video that showcases the step-by-step creation of Velazquez painting in our TOPofART studio. This video provides an in-depth look into the intricate process of creating a hand-painted oil reproduction of a classic masterpiece.
1 Reviews
5.00 Overall rating
---

Gygy
Verified Reviewer
15th June 2016 10:14am
Diego Rodriguez de Silva Velazquez - The Royal Family (Las Meninas)

The personages are seen in a room in the royal palace with identifiable paintings on the walls - Apollo and Pan, school of Rubens; copy of a Jor-daens by Mazo, both today in the Prado. Although a little scant of colour in the upper part, it is evident how the composition is committed to the influx of light in the 'proscenium' and from the background, in a contrast that is barely resolved by the play of perspective: an oblique quadrangle in the foreground, the diagonally placed canvas, the background with its mirrored figures and openings against the light. It is an intimate room. Royalty is out of the picture and participates only by reflection, without altering the gentle, fresh atmosphere of the scene. Velazquez removed every restriction that might have obliged him to alter the tone of everyday life, it might be anyone's life, to that of the court's rituals. In fact, the artist himself assumes the part of the protagonist, with his dominating position and his look expressing a tranquil self-awareness. The scene of homage to the Infanta, through its dwarfs, its modest household members and its faithful dog, is expressed in one of Velazquez' most delicate, refined and vibrant compositions - light in tone and application, with agile passages, contained, pearly touches and in general a supreme expression of expansive affection.