Location: Prado Museum Madrid Spain
Original Size: 220 x 289 cm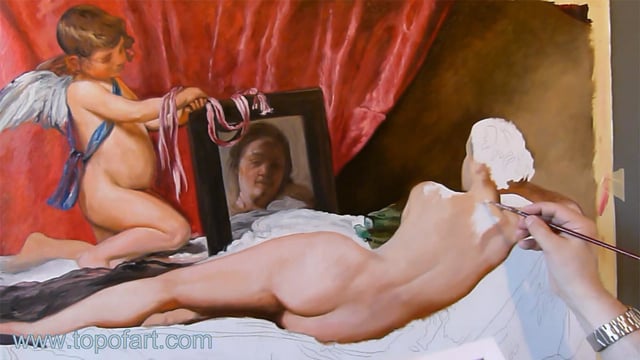 An Illustration of the Quality of Velazquez Painting Reproduction - A Video Demonstration
View a video that showcases the step-by-step creation of Velazquez painting in our TOPofART studio. This video provides an in-depth look into the intricate process of creating a hand-painted oil reproduction of a classic masterpiece.
1 Reviews
5.00 Overall rating
---

Gygy
Verified Reviewer
20th December 2015 1:36pm
Velazquez - The Fable of Arachne (Las Hilanderas)

Painted between 1644 and 1648, the painting represents a scene in Juan Alvarez' tapestry and carpet workshop in Madrid.

In the background hangs a tapestry with a representation of Ariadne, in which Veronese motifs appear. The mythological title, attested by ancient sources, is valid only for the tapestry; for the picture as a whole the title of Las Hilanderas, the Tapestry Weavers (caught at their work in the textile factory), is more justified. Here, too, the over-all composition is of an extreme simplicity: two diagonal lateral wings, lighted in contrast to the shadowed background; in the centre a triangular figure against the light, contrasting with the background illuminated by a vivid blade of sunlight; stepped planes moving in alternate lateral jumps towards the background. The scene is a striking close-up. As in the master's last period, and through the impulse derived from his Italian visits, Velazquez, without abandoning his Caravaggesque compositions of linked masses and dialectics of light and dark, is more and more attracted to the pictorial freedom of the Venetians.

He is taken by their direct impasto, quivering brushwork, the charm of a dense, warm atmosphere rendered by nuances and reflections. The approach permits an improbable perspective (elsewhere the perspective is strict and measured) to obtain a more intimate movement on all sides - the weavers and the women - with the pulsating effects of light which gives a vitally cheerful movement to the scene. Here are seen some of the most exceptional and original renderings of movement, as in the hand of the girl on the right, which is multiplied to indicate its gesture, and in other parts that are veiled or caught in action, like the spinning-wheel.