Location: Prado Museum Madrid Spain
Original Size: 297 x 309 cm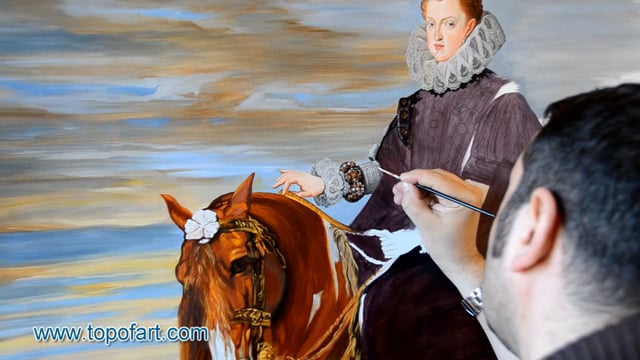 Video of the process of creation of oil painting reproduction in our studio.
You may watch a video showing a painting being made in our TOPofART studio. Hand-painted reproduction: step by step creation of Queen Margarita de Austria on Horseback by Velazquez
2 Reviews
5.00 Overall rating
---

Pam
Verified Reviewer
10th May 2015 6:50pm
I absolutely love it. I am very pleased with all 3 paintings and have received many compliments on the first two. I give everyone your name.
Thank you again & I will send you pics once all 3 are framed and hung.

Art
Verified Reviewer
20th April 2015 12:01pm
The Infanta Margarita de Austria
c.1665
Oil Painting
$2194
Canvas Print
$52.22
SKU: VDZ-16766
Diego Rodriguez de Silva Velazquez
Original Size:212 x 147 cm
Prado Museum, Madrid, Spain
Kitchen Scene with the Supper in Emmaus
c.1618
Oil Painting
$858
Canvas Print
$49.88
SKU: VDZ-18788
Diego Rodriguez de Silva Velazquez
Original Size:55 x 118 cm
National Gallery, Dublin, Ireland
Tavern Scene with Two Men and a Girl
c.1618/19
Oil Painting
$2408
Canvas Print
$63.50
SKU: VDZ-19196
Diego Rodriguez de Silva Velazquez
Original Size:96 x 112 cm
Museum of Fine Arts, Budapest, Hungary