Location: Museum of Modern Art New York USA
Original Size: 73.7 x 92.1 cm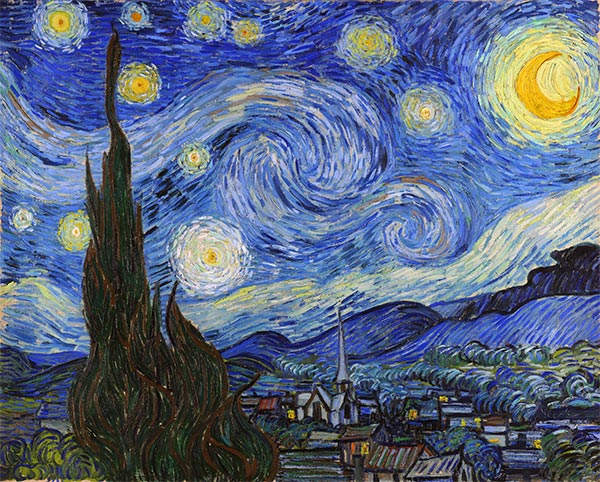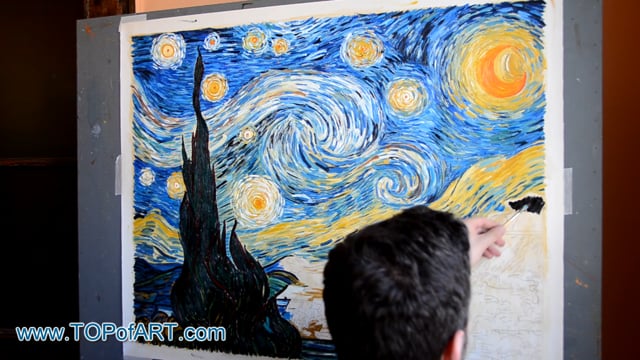 Video of the process of creation of oil painting reproduction in our studio.
You may watch a video showing a painting being made in our TOPofART studio. Hand-painted reproduction: step by step creation of Starry Night by Vincent van Gogh
7 Reviews
5.00 Overall rating
---

nkim
Verified Reviewer
30th December 2022 4:03pm
I have known the Top of Art in Sofia for several years. They are probably the best in the world in oil painting reproduction. I have ordered, da Vinci, Rubens, Monet, in the past and now van Gogh (Starry Night). And each time they have constantly exceeded my expectations. Simply Mike Orlov and his partner, another Mike, at the Top of Art are the best people who can reproduce magna opera.

Sean DSouza
Verified Reviewer
14th September 2021 10:55am
I have seen the original Starry Night and can honestly say out of all the reproductions I have come across the one I received from Top of Art is the only one that truly captures the original magic. In fact I would even say it feels richer with the quality of paint the artist uses. I cannot stop staring at the painting since I opened the package this morning. Additionally Mike was super helpful through the entire process, and was very communicative as the piece was under production. I highly recommend Top of Art, they are truly museum quality and the best I have seen after ordering from several companies. I cannot wait to place my next order with Top of Art. I will be a customer for years to come!

Christoffer
Verified Reviewer
26th May 2015 6:13pm
Hi Michael,I picked up the painting today and I am super please with the result. Many thanks. Am already planning on the next one.Till then.Best regards.

Michael
Verified Reviewer
26th September 2014 1:39pm
Brilliant. Very impressed. A talented painter.

Art
Verified Reviewer
15th March 2014 2:51am

Joerg
Verified Reviewer
14th March 2014 9:18pm
The painting has arrived. We love it!! The colours are even better than the original and the way it is painted is very much like the original. Great job, please let the painter know.
Thank you and greetings!