Location: Metropolitan Museum of Art New York USA
Original Size: 73 x 93.4 cm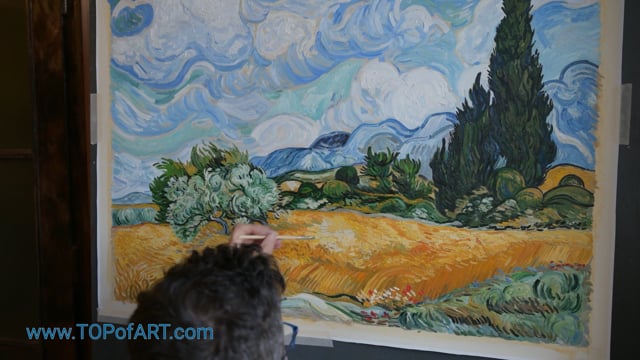 Video of the process of creation of oil painting reproduction in our studio.
You may watch a video showing a painting being made in our TOPofART studio. Hand-painted reproduction: step by step creation of Wheat Field with Cypresses by Vincent van Gogh
2 Reviews
5.00 Overall rating
---

Hamburg Germany
Verified Reviewer
30th August 2023 10:09am
This is my second van Gogh reproduction that I bought on Top of Art. The quality of both paintings is very good, an opinion shared by my local frame shop. However, delivery took much longer than expected for both paintings. Last year's purchase was delivered after a bit more than three months and this painting arrived just two days short of four months after the order. Be prepared that you probably wait a long time, but they do deliver at the end.

Vienna
Verified Reviewer
28th July 2023 1:37pm
The delivery took longer than expected but Top of Art delivered!
From my perspective the painter managed to capture perfectly the intensity and dynamic of the original.