Location: National Gallery of Art Washington USA
Original Size: 71 x 90 cm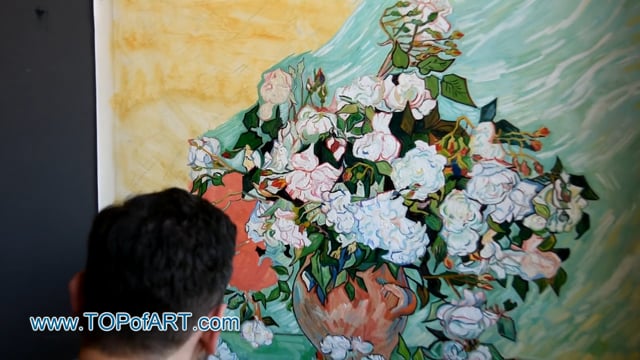 Video of the process of creation of oil painting reproduction in our studio.
You may watch a video showing a painting being made in our TOPofART studio. Hand-painted reproduction: step by step creation of Roses by Vincent van Gogh
2 Reviews
5.00 Overall rating
---

Kin
Verified Reviewer
14th August 2019 11:12am
Took a little longer than I had hoped for but the final results are between good and excellent. Ordered a large batch of 14 paintings and I would say that TOPofARTs forte is in fine and modern art. I especially like their Shishkin and Klimt works.Their delivery system is very good and smooth. No trouble with all 14 paintings despite delivery in many batches over time.The timing could be improved but one wouldn't want to rush the artists. Perhaps a more accurate indication of how long it would take to complete a batch of paintings.If TOPofART could send pictures or clips of ongoing work that would be good too and it's nice to see your work in progress. I think this would also encourage interest in other paintings again so would be a win-win for both sides.

Art
Verified Reviewer
17th October 2017 9:58pm