Directory of Art Styles and Movements
This directory of fine art reproductions selected by periods, movements, styles and genres can help you to select the painting which is appropriate for you and also make a short journey into the development and history of art.
Last Added Art Reproductions
Oil Paintings Made to Look Old and Cracked
We are able to make your art reproduction look antique, old and cracked like the original in the museum.
Learn More about the Cracking Effect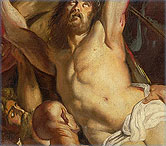 The Most Popular Paintings
Antoine Coypel (1661 - 1722), son of the French painter Noel Coypel, was still more celebrated than his father.

Antoine studied under his father, with whom he spent four years at Rome. At the age of eighteen he was admitted into the Academie de peinture et de sculpture, of which he became professor and rector in 1707, and director in 1714. In 1716 he was appointed king's painter, and he was ennobled in the following year.

Antoine Coypel received a careful literary education, the effects of which appear in his works; but the graceful imagination displayed by his pictures is marred by the fact that he was not superior to the artificial taste of his age. He was a clever etcher, and engraved several of his own works. His Discours prononces dans les conferences de 1'Academie royale de Peinture, etc.; first appeared in 1721.

His half-brother Noel-Nicolas was also an accomplished painter.