Directory of Art Styles and Movements
This directory of fine art reproductions selected by periods, movements, styles and genres can help you to select the painting which is appropriate for you and also make a short journey into the development and history of art.
Last Added Art Reproductions
Oil Paintings Made to Look Old and Cracked
We are able to make your art reproduction look antique, old and cracked like the original in the museum.
Learn More about the Cracking Effect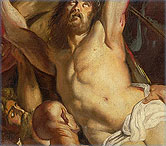 The Most Popular Paintings
Pompeo Girolamo Batoni Biography

1708-1787

Italian Rococo Painter


Pompeo Girolamo Batoni
was born in Lucca, the son of a goldsmith.
He established himself in Rome in 1727 or 1728 to study the ancien sculpture. A pupil of Sebastiano Conca, he was however described as mainly a self-taught. His first works being mainly copies of works by
Raphael
and Annibale Carracci. In the early 1740s, however, he started to receive more prestige commissions, including the famous Fall of Simon Magus for the St. Peter's Basilica (now in Santa Maria degli Angeli). The Ecstasis of St. Catherine of Siena, now in the National Museum of Lucca, is from 1743.
Batoni became the most fashionable painter in the city, particularly after his most serious rival - Anton Raphael Mengs - departed for Spain in 1761. Batoni befriended Winckelmann and, like him, preferred
Raphael
and
Poussin
to the Venetian artists then in vogue.
His studio was frequented by foreigners, especially Britons, who would commission standing portraits in the milieu of antiquities, ruins, and objets d'art. Such "Grand Tourist" portraits by Batoni came to proliferate in the British private collections, thus ensuring the genre's popularity in the United Kingdom, where Sir Joshua Reynolds would become its leading practitioner.
In 1769 the double portrait of Joseph II and Leopold II won an Austrian nobility for Batoni. He also portrayed Pope Pius VI. According to a legend, he bequeathed his palette and brushes to
Jacques-Louis David
.
He died in Rome in 1787.