Directory of Art Styles and Movements
This directory of fine art reproductions selected by periods, movements, styles and genres can help you to select the painting which is appropriate for you and also make a short journey into the development and history of art.
Last Added Art Reproductions
Oil Paintings Made to Look Old and Cracked
We are able to make your art reproduction look antique, old and cracked like the original in the museum.
Learn More about the Cracking Effect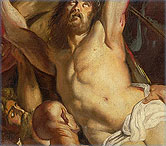 The Most Popular Paintings
Jean Béraud (January 12, 1849 Saint Petersburg - October 4, 1935 Paris) was a French impressionist painter.
His father was a sculptor and was probably working on the site of St Isaac's Cathedral when Jean was born.
The works of Béraud, a disciple of Léon Bonnat, were exhibited at the Salon for the first time in 1872, but he only gained some recognition in 1876, with his "On the way back from the funeral". He painted many scenes of Parisian daily life during the Belle Époque. He received the Légion d'honneur in 1894.