Directory of Art Styles and Movements
This directory of fine art reproductions selected by periods, movements, styles and genres can help you to select the painting which is appropriate for you and also make a short journey into the development and history of art.
Last Added Art Reproductions
Oil Paintings Made to Look Old and Cracked
We are able to make your art reproduction look antique, old and cracked like the original in the museum.
Learn More about the Cracking Effect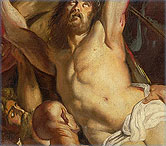 The Most Popular Paintings

Frederick Arthur Bridgman Biography

1847-1928

American (Active in France) Realist Painter


Frederick Arthur Bridgman
(November 10, 1847-1928) was an American artist, born in Tuskegee, Alabama.
He began as a draughtsman in New York City, for the American Bank Note Company in 1864-1865, and studied art in the same years at the Brooklyn Art School and at the National Academy of Design; but he went to Paris in 1866 and became a pupil of
Jean-Leon Gerome
. Paris then became his headquarters. A trip to Egypt in 1873-1874 resulted in pictures of the East that attracted immediate attention, and his large and important composition, The Funeral Procession of a Mummy on the Nile, in the Paris Salon (1877), bought by James Gordon Bennett, brought him the Cross of the Legion of Honor. Other paintings by him were An American Circus in Normandy, Procession of the Bull Apis (now in the Corcoran Gallery of Art, Washington, D.C.), and a Rumanian Lady (in the Temple collection, Philadelphia, Pennsylvania).