Directory of Art Styles and Movements
This directory of fine art reproductions selected by periods, movements, styles and genres can help you to select the painting which is appropriate for you and also make a short journey into the development and history of art.
Last Added Art Reproductions
Oil Paintings Made to Look Old and Cracked
We are able to make your art reproduction look antique, old and cracked like the original in the museum.
Learn More about the Cracking Effect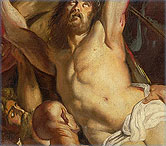 The Most Popular Paintings

Charles Emile August Carolus-Duran Biography

1837-1917

French Academic Classicism Painter


Carolus-Duran
was the name adopted by the French painter
Charles Auguste Emile Durand
(July 4, 1837 - 1917), who was born at Lille.
He studied at the Lille Academy and then at the Academie des Beaux-Arts in Paris, and in 1861 to Italy and Spain for further study, especially devoting himself to the pictures of
Velazquez
. His subject picture Murdered, or The Assassination (1866), was one of his first successes, and is now in the Lille museum, but he became best known afterwards as a portrait painter, and as the head of one of the principal ateliers in Paris, where some of the most brilliant artists of a later generation were his pupils. He took part in 1890 in the creation of the National Society of French Art (Societe Nationale des Beaux Arts). His Lady with the Glove (1869), a portrait of his own wife, was bought for the Luxembourg Museum in Paris. In 1889 he was made a commander of the Legion of Honour. He became a member of the Academie des Beaux-arts in 1904, and in the next year was appointed director of the French academy at Rome in succession to Eugene Guillaume.