Directory of Art Styles and Movements
This directory of fine art reproductions selected by periods, movements, styles and genres can help you to select the painting which is appropriate for you and also make a short journey into the development and history of art.
Last Added Art Reproductions
Oil Paintings Made to Look Old and Cracked
We are able to make your art reproduction look antique, old and cracked like the original in the museum.
Learn More about the Cracking Effect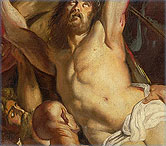 The Most Popular Paintings
Heywood Hardy Biography

1843-1933

English Victorian Romanticism Painter


Heywood Hardy was a painter and watercolourist of animals, sporting subjects and genre. He was born in Bristol where he later studied also studying in Paris and Antwerp. He moved to London in 1870 and later settled in Worthing. Hardy was also an engraver and illustrator who contributed to the Illustrated London News and the Graphic.

Hardy most popular subjects are coaching scenes or people on horseback. One of Hardy's trademarks is his ability to paint his animals with a notable degree of sensitivity, demonstrating a great understanding of horses.

Among his many patrons were the Sitwells of Renishaw. He also painted a series of religious scenes of the life of Christ for Clymping Church, Sussex in 1909.

Hardy exhibited at the Royal Academy, British Institution, Suffolk Street, Old Watercolour Society and the New Gallery.