Directory of Art Styles and Movements
This directory of fine art reproductions selected by periods, movements, styles and genres can help you to select the painting which is appropriate for you and also make a short journey into the development and history of art.
Last Added Art Reproductions
Oil Paintings Made to Look Old and Cracked
We are able to make your art reproduction look antique, old and cracked like the original in the museum.
Learn More about the Cracking Effect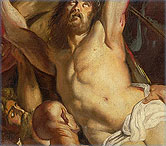 The Most Popular Paintings
Sir Peter Lely Biography

1618-1680

Dutch, born in England Baroque Painter


Peter Lely (1618-1680), Dutch-born English portrait painter, known for his paintings of 17th century English aristocracy. Born Pieter van der Faes in Soest, Westphalia (now in Germany), Lely trained in Haarlem, the Netherlands, where he became a guild member. In the mid-1640s he settled in London and was thereafter commissioned to paint the leading figures of the English court. King Charles II made Lely court painter in 1661 and knighted him in 1680. Lely's painting, fashionably elegant and marked by strong composition and lively color, shows the influence of Flemish master Sir Anthony van Dyck. Lely's series of paintings, called collectively the Windsor Beauties (1660s), is in Hampton Court Palace, London. Another series, the Admirals, (1666-1667) is in the
National Maritime Museum, Greenwich, England
.