Directory of Art Styles and Movements
This directory of fine art reproductions selected by periods, movements, styles and genres can help you to select the painting which is appropriate for you and also make a short journey into the development and history of art.
Last Added Art Reproductions
Oil Paintings Made to Look Old and Cracked
We are able to make your art reproduction look antique, old and cracked like the original in the museum.
Learn More about the Cracking Effect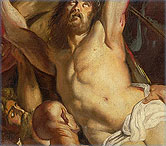 The Most Popular Paintings

Leon-Augustin Lhermitte Biography

1844-1925

French Realist Painter


Leon Augustin Lhermitte
(also known as Leon Augustin L'hermitte). Born Mont-Saint-Pere, 1844, died Paris, 1925. French painter and etcher of the late nineteenth century. A student of Lecocq de Boisbourdran. A realist artist whose primary subject matter was of rural scenes depicting the peasant worker.
He gained recognition after his show in the Paris Salon in 1864.
His many awards include the French Legion of Honour (1884) and the Grand Prize at the Exposition Universelle in 1889.
Lhermitte's innovative use of the then contemporary media of pastels won him the admiration of his contemporaries.
Vincent Van Gogh
wrote that "If every month Le Monde Illustre published one of his compositions...it would be a great pleasure for me to be able to follow it. It is certain that for years I have not seen anything as beautiful as this scene by Lhermitte...I am too preoccupied by Lhermitte this evening to be able to talk of other things."
Lhermitte's etchings and paintings are housed in museums around the world including Boston, Washington, Chicago, Montreal, Brussels, Rheims, Paris, Moscow and Florence.