Directory of Art Styles and Movements
This directory of fine art reproductions selected by periods, movements, styles and genres can help you to select the painting which is appropriate for you and also make a short journey into the development and history of art.
Last Added Art Reproductions
Oil Paintings Made to Look Old and Cracked
We are able to make your art reproduction look antique, old and cracked like the original in the museum.
Learn More about the Cracking Effect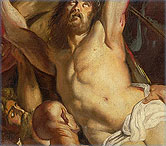 The Most Popular Paintings
Anton Rudolf Mauve
(September 18, 1838, Zaandam - February 5, 1888, Arnhem) was a Dutch realist painter whose work very early on influenced his cousin
Vincent van Gogh
.
Mauve was born in Zaandam into the family of a baptist preacher, who was sent to Haarlem a year after Anton's birth. His early work can be attributed to the Hague School. When Mauve moved to Laren in 1886, he was one of the founders of the Laren School, with
Jozef Israels
and Albert Neuhuys.
Most of Mauve's work shows people and animals in outdoor settings. In his Morning Ride in the Rijksmuseum, fashionable equestrians at the seacoast are seen riding away from the viewer. An unconventional detail - horse droppings in the foreground - attests to his commitment to realism. And in fact he is known mostly for paintings of peasants working in the fields, and especially for sheep herding scenes. His paintings of flocks of sheep were especially popular with American patrons. Examples of his work include Changing Pasture (ca. 1880s) and Entering the Fold (ca. 1885-1888).
As said, he was related to Vincent van Gogh, who worked under him for a short period, until they had a quarrel.