Directory of Art Styles and Movements
This directory of fine art reproductions selected by periods, movements, styles and genres can help you to select the painting which is appropriate for you and also make a short journey into the development and history of art.
Last Added Art Reproductions
Oil Paintings Made to Look Old and Cracked
We are able to make your art reproduction look antique, old and cracked like the original in the museum.
Learn More about the Cracking Effect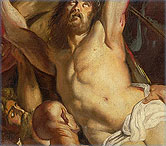 The Most Popular Paintings

Jean-Baptiste Santerre Biography

1651-1717

French Baroque Painter


Jean-Baptiste Santerre
(1650, Magny-en-Vexin, near Pontoise - November 21 1717, Paris) was a French Baroque painter.
A pupil of Bon Boullogne, Santerre began his painting career at a portraitist, with a notable work being a portrait of Marie Leszczynska with the Maison de St Cyr in the background (now at the musee de Versailles). He won a major reputation thanks to his academies. His most notable work is his Susanna Bathing (Louvre), the diploma work executed by him in 1704, when he was received into the Academie (though the version now in the Louvre seems to be a copy by Santerre of the original). Although his religious paintings lacked inspiration, the Susanna contributed to Santerre's fifty year reputation as a painter of the erotic nude, in which field he was the forerunner to
Francois Boucher
(1730-1770) and
Jean-Honore Fragonard
(1732-1806). The Susanna and his Portrait of a Lady in Venetian Costume (Louvre) give a good impression of Santerre's taste and of his elaborate, refined and careful method.