Directory of Art Styles and Movements
This directory of fine art reproductions selected by periods, movements, styles and genres can help you to select the painting which is appropriate for you and also make a short journey into the development and history of art.
Last Added Art Reproductions
Oil Paintings Made to Look Old and Cracked
We are able to make your art reproduction look antique, old and cracked like the original in the museum.
Learn More about the Cracking Effect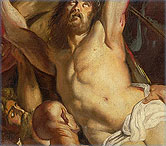 The Most Popular Paintings
Andries Vermeulen Biography

1763-1814

Dutch Baroque Painter


Andries Vermeulen
was a Dutch genre painter of landscapes and marine subjects. He often included figures, horses and cattle in his landscapes and excelled in painting winter scenes with figures skating on the frozen canals of Holland. He also made many copies after the works of the seventeenth century Dutch landscapists
Aelbert Cuyp
and Meindert Hobbema.
He was born at Dordrecht in 1763 and studied under his father Cornelis Vermeulen the Younger, an ornamental painter and picture dealer. For much of his life he lived and worked in Amsterdam where he died in 1814.
The work of Vermeulen is represented in several museums including the National Gallery, London, the Rijksmuseum, Amsterdam and the Dordrecht Museum, Dordrecht.