Directory of Art Styles and Movements
This directory of fine art reproductions selected by periods, movements, styles and genres can help you to select the painting which is appropriate for you and also make a short journey into the development and history of art.
Last Added Art Reproductions
Oil Paintings Made to Look Old and Cracked
We are able to make your art reproduction look antique, old and cracked like the original in the museum.
Learn More about the Cracking Effect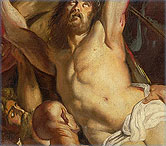 The Most Popular Paintings
Pieter de Bloot Biography

1601-1658

Dutch Baroque Painter


Pieter de Bloot was Dutch landscape and genre painter active in his native Rotterdam. He specialized in countryside views and peasant subjects, such as "Drunken Peasants Fighting" and "Dancing in a Tavern". His tavern scenes have some affinity to those by Adriaen Brouwer. Jan van Goyen influenced his landscapes but has more figures and is richer in narrative detail. He also painted religious subjects. "St Martin and the Beggar" shows the saint cutting his cloak in half to share it with a beggar at Amiens; a crowd of crippled beggars witnesses the scene. One of his early interior scenes, "In the Lawyer's Office", is an interesting record of such an establishment in 17th-century Holland, humorous in its depiction of clients queuing at the counters with children and dogs.