Directory of Art Styles and Movements
This directory of fine art reproductions selected by periods, movements, styles and genres can help you to select the painting which is appropriate for you and also make a short journey into the development and history of art.
Last Added Art Reproductions
Oil Paintings Made to Look Old and Cracked
We are able to make your art reproduction look antique, old and cracked like the original in the museum.
Learn More about the Cracking Effect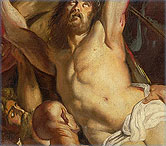 The Most Popular Paintings
Jan Frans van Dael Biography

1764-1840

Flemish Baroque/Rococo Painter


Jan Frans van Dael was born in Antwerp in 1764, the son of a joiner. From 1776 he studied architectural draughtsmanship at the Antwerp Academy, but preferred to paint, which he did secretly at night to avoid his father's disapproval.
In 1786 van Dael left for Paris and was employed on decorative schemes for the chateaux of St Cloud, Bellevue and Chantilly. He soon turned to flower painting, influenced by Gerard van Spaendonck, with whom he probably studied. Van Dael's delicate and precise paintings soon gained important patrons and he was unscathed by the turbulent politics of the era. In his long career, van Dael worked for the flower-loving Empress Josephine at Malmaison; for the Empress Marie-Louise, Louis XVIII and Charles X. He exhibited at the Paris Salon 1793-1833 and from 1796 had apartments in the Louvre, moving to the Sorbonne in 1806.
Van Dael was a member of the Academies of Antwerp and Amsterdam and exhibited in Antwerp, Ghent, Brussels and The Hague. He amassed an important collection of contemporary and seventeenth century Dutch and Flemish still lifes, for he regarded himself as an heir of that great tradition. Van Dael's exquisitely painted flowers were based on botanical study, and according to a fellow botanist, van Hulthem, he grew flowers in his garden to serve as models.
Van Dael also made a few pure landscapes, religious and allegorical pictures, as well as lithographs. He occasionally painted portraits, often of fellow artists. Jan Frans van Dael died in Paris in 1840 and was buried in Pere-Lachaise next to his mentor Gerard van Spaendonck.
The work of Jan Frans van Dael is represented at the Chateau de Malmaison; the Chateau de Fontainebleau; the Museum Boymans-van-Beuningen, Rotterdam; the Musée des Beaux-Arts, Lille and the Koninklijk Museum voor Schone Kunsten, Antwerp.