Location: Los Angeles County Museum of Art California USA
Original Size: 78.7 x 62.2 cm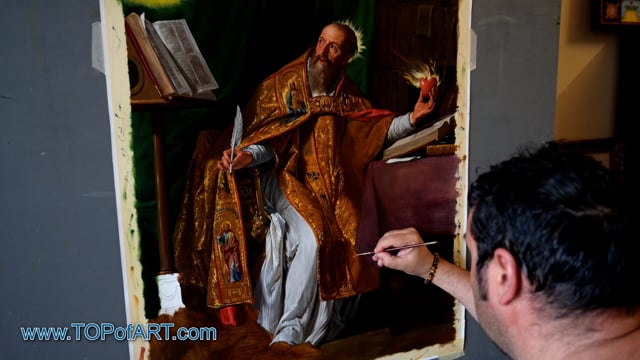 Video of the process of creation of oil painting reproduction in our studio.
You may watch a video showing a painting being made in our TOPofART studio. Hand-painted reproduction: step by step creation of Saint Augustine by Philippe de Champaigne
1 Reviews
5.00 Overall rating
---

Frank Muller
Verified Reviewer
28th August 2020 11:01pm
We have commissioned three different works from Michael and we are thrilled with each. Rembrandts Prodigal Son, Ribera's Descent from the Cross, and Champaignes' Saint Augustine. Each are well done but the Saint Augustine is truly exquisite. The other two are reasonably faithfully recreated, this latter painting is tremendous! Michael is responsive but fair warning that they do not rush their work and estimates for finishing the work can be optimistic at times. Having said, do not let that statement deter you. This team does work that is well worth waiting for. Having experienced less quality, if you at all care about technique, proper use of colors and sketch symmetry I saw this is your place. We will be commissioning more from Top Art.
Portrait of a Man in Official Dress
1668
Oil Painting
$2814
Canvas Print
$55.64
SKU: CPH-18899
Philippe de Champaigne
Original Size:202.5 x 152.5 cm
Staatliche Kunsthalle, Karlsruhe, Germany
Bust of an Elderly Gentleman
undated
Oil Painting
$1215
Canvas Print
$60.63
SKU: CPH-18900
Philippe de Champaigne
Original Size:63.5 x 52 cm
Staatliche Kunsthalle, Karlsruhe, Germany