Location: Private Collection
Original Size: 73 x 58 cm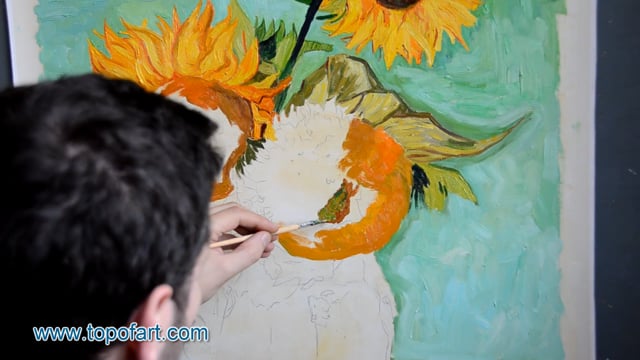 Video of the process of creation of oil painting reproduction in our studio.
You may watch a video showing a painting being made in our TOPofART studio. Hand-painted reproduction: step by step creation of Three Sunflowers in a Vase by Vincent van Gogh
2 Reviews
5.00 Overall rating
---

Hannes Brachat
Verified Reviewer
14th September 2021 4:27pm
Drei Sonnenblumen habe ich geordert und pünktlich erhalten. Das Bild ist in den Ölfarben qualitativ sehr gut geworden. Ich wurde außerdem fortlaufend über den aktuellen Stand wie die Zustellung informiert. Auch die Bezahlung per Überweisung hat vorbildlich funktioniert. Ich werde gerne weitere Bilder ordern. Klasse gemacht! Vielen Dank!

Art
Verified Reviewer
2nd January 2015 8:31pm