Location: Prado Museum Madrid Spain
Original Size: 179 x 223 cm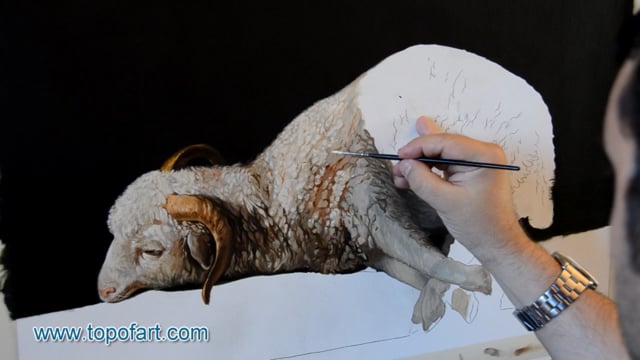 An Illustration of the Quality of Zurbaran Painting Reproduction - A Video Demonstration
View a video that showcases the step-by-step creation of Zurbaran painting in our TOPofART studio. This video provides an in-depth look into the intricate process of creating a hand-painted oil reproduction of a classic masterpiece.
1 Reviews
5.00 Overall rating
---

Gygy
Verified Reviewer
20th December 2015 12:40pm
Zurbaran - The Apostle Peter Appearing to St. Peter Nolasco

This work from Zurbaran's maturity is perhaps the most intensely lyrical of those composing his religious cycles. The bare simplicity of the composition reflects the criteria and solutions indicated in such works as Still-life, already discussed. Here are only two figures against an immense, closed background, and two summary diagonals, one from right to left, towards the crucified Apostle; the other from left to right, formed by his open arms, which provide a rapid penetrating movement. Corresponding to this last movement are the arms of St. Peter Nolasco open in adoration.

The situation is like an unexpected explosion, and it is concentrated in a vision caught at its most forceful moment in an indescribable and marvellous instant. Continuing the Caravaggesque mode, simplified forms in pure volumes are revealed by a miraculous beam of light.

Leaving aside any traditional models, and interpreting the narrative in a highly individual way, the artist creates the immediate and compelling image of the two figures. He arrests the sharp feeling not so much of an exceptional event as of the impossibility or incredibility of a miracle. This he does in a suspended tension that is established in the descent of the Apostle Peter, with his aura of light, and in the sudden gesture of St. Peter Nolasco, who appears to have just fallen to his knees after having witnessed the incredible descent. The manner of painting almost annuls his presence, at least as a physical or apparent presence in the eyes of the observer; it suggests a precipitous sublimation, a point of transport, of a transfiguring, lyrical, mystical exaltation that is beyond any situation and any time.