Directory of Art Styles and Movements
This directory of fine art reproductions selected by periods, movements, styles and genres can help you to select the painting which is appropriate for you and also make a short journey into the development and history of art.
Last Added Art Reproductions
Oil Paintings Made to Look Old and Cracked
We are able to make your art reproduction look antique, old and cracked like the original in the museum.
Learn More about the Cracking Effect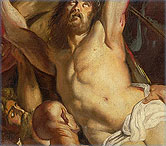 The Most Popular Paintings

Jan Bruegel the Elder Biography

1568-1625

Flemish Baroque Painter


Jan Brueghel the Elder
(1568-1625) was a Flemish painter, son of
Pieter Brueghel the Elder
and father of Jan Brueghel the Younger. Nicknamed 'Velvet' Brueghel, 'Flower' Brueghel, and 'Paradise' Brueghel, the latter two were derived from favored subjects, while the former may refer to the velveteen sheen of his colors or to his habit of wearing velvet.
A prolific painter of still lifes, often of flowers, and landscapes, he formed a style more independent of his father's than did his brother Pieter the Younger. His early works are often landscapes containing scenes from scripture, particularly forest landscapes betraying the influence of the master forest landscape-painter Gillis van Coninxloo. Later in his career, he moved toward the painting of pure landscapes and townscapes, and, toward the end, of still lifes.
Many of his paintings are collaborations in which figures by other painters were placed in landscapes painted by Jan Brueghel. The most famous of his collaborators was
Peter Paul Rubens
.
He had a studio in Antwerp in Belgium.
Jan Brueghel the Elder died of cholera in Antwerp.