Directory of Art Styles and Movements
This directory of fine art reproductions selected by periods, movements, styles and genres can help you to select the painting which is appropriate for you and also make a short journey into the development and history of art.
Last Added Art Reproductions
Oil Paintings Made to Look Old and Cracked
We are able to make your art reproduction look antique, old and cracked like the original in the museum.
Learn More about the Cracking Effect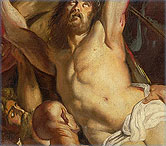 The Most Popular Paintings
Carl Spitzweg (February 5, 1808 - September 23, 1885) was a German romanticist painter and poet. He is considered to be one of the most important representatives of the Biedermeier era.
He was born in Unterpfaffenhofen as the second of three sons of Franziska and Simon Spitzweg. His father, a wealthy merchant, had Carl trained as a pharmacist. He took up painting after an illness, and was self-taught, beginning by copying the works of Flemish masters. He contributed his first work to satiric magazines.
Later, Spitzweg visited European art centers, studying the works of various artists and refining his technique and style; he visited Prague, Venice, Paris, London, and Belgium. His later paintings and drawings are often humorous and eccentric portraits.