Directory of Art Styles and Movements
This directory of fine art reproductions selected by periods, movements, styles and genres can help you to select the painting which is appropriate for you and also make a short journey into the development and history of art.
Last Added Art Reproductions
Oil Paintings Made to Look Old and Cracked
We are able to make your art reproduction look antique, old and cracked like the original in the museum.
Learn More about the Cracking Effect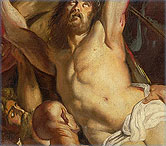 The Most Popular Paintings

Thomas Cole Biography

1801-1848

English (Active in America) Hudson River School Painter


Thomas Cole (February 1, 1801 - February 11, 1848) was a nineteenth century American artist. Cole is regarded as the founder of the Hudson River School, an American art movement that flourished in the mid-19th century and was concerned with the realistic and detailed portrayal of nature.
He was born at Bolton, Lancashire in England. In 1819 the family emigrated to America, settling first in Philadelphia and then at Steubenville, Ohio, where Cole learned the rudiments of his profession from a wandering portrait painter. He went about the local country painting portraits, but with little financial success. Moving to New York in 1825, he displayed some landscapes in the window of an eating-house, where they attracted the attention of the painter John Trumbull, who sought him out, bought one of his canvases, and found him patrons. From this time Cole was prosperous.
Cole was primarily a painter of landscapes, but he also painted allegorical works. The most famous of these are a series of four canvases representing The "Voyage of Life", and another series of five canvases representing "The Course of Empire", now in the collection of the New-York Historical Society.
He held considerable influence on his artistic peers, especially Jasper Francis Cropsey, and Frederick Edwin Church who studied under Cole from 1844 to 1846. Cole spent the years 1829 to 1832 and 1841-1842 abroad, mainly in Italy, and at Florence lived with the sculptor Horatio Greenough. After 1827 he had a studio in the Catskills which furnished the subjects of some of his canvases, and he died at Catskills, New York, on the 11th of February 1848.