Directory of Art Styles and Movements
This directory of fine art reproductions selected by periods, movements, styles and genres can help you to select the painting which is appropriate for you and also make a short journey into the development and history of art.
Last Added Art Reproductions
Oil Paintings Made to Look Old and Cracked
We are able to make your art reproduction look antique, old and cracked like the original in the museum.
Learn More about the Cracking Effect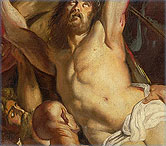 The Most Popular Paintings
Georges de La Tour Biography

1593-1652

French Baroque Painter


Georges de La Tour (1593-1652)
The son of a baker in the independent province of Lorraine, Georges de la Tour is first mentioned in documents in 1616, when he was still living in Vic. By 1620 he had established himself in Luneville and hired his first apprentice. He made a visit to Paris in 1639, the same year he was named peintre ordinaire du roi to Louis Xlil. While little is known about La Tour's life or artistic training, he may have been in Rome from 1610 to 1616 and may also have gone to the Netherlands. Famous in his lifetime, La Tour's reputation fell into oblivion afler his death. His work was rediscovered in the twentieth century. Scholarly opinion remains divided over the chronology of his couvre, but La Tour's important position as a dramatist of humble reality is universally acknowledged today.