Directory of Art Styles and Movements
This directory of fine art reproductions selected by periods, movements, styles and genres can help you to select the painting which is appropriate for you and also make a short journey into the development and history of art.
Last Added Art Reproductions
Oil Paintings Made to Look Old and Cracked
We are able to make your art reproduction look antique, old and cracked like the original in the museum.
Learn More about the Cracking Effect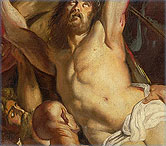 The Most Popular Paintings
Emanuel de Witte Biography

1617-1691

Dutch Baroque Painter


Emanuel de Witte (1617 - 1692) was a Dutch perspective painter, born in Alkmaar. He trained with Evert van Aelst in Delft and joined the Guild of St Luke back in Alkmaar in 1636.
Initially, Emanuel de Witte painted portraits as well as mythological and religious scenes. After his move to Delft in 1640 he specialized in representing church interiors. In contrast to Pieter Jansz Saenredam, who emphasized accuracy, De Witte was especially concerned with atmosphere. He painted fictional interiors and combined aspects of different churches.
His works excel in composition and use of light, while the interiors are usually inhabited by churchgoers, often accompanied by a dog. The created atmosphere thereby appears the real theme of each painting.
Emanuel de Witte moved to Amsterdam in 1652, where he commited suicide in 1692.