Location: Galerie Belvedere Vienna Austria
Original Size: 180 x 180 cm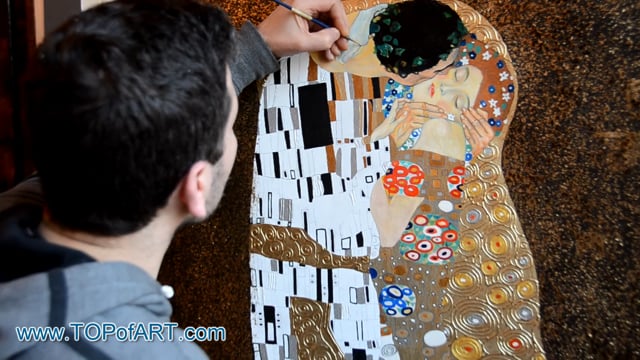 Video of the process of creation of oil painting reproduction in our studio.
You may watch a video showing a painting being made in our TOPofART studio. Hand-painted reproduction: step by step creation of The Kiss by Klimt
7 Reviews
5.00 Overall rating
---

Craig
Verified Reviewer
5th August 2020 12:00pm

Chris
Verified Reviewer
23rd August 2019 11:55am
A wonderful product. We ordered The Kiss and didn't really know what to expect. The YouTube video and photos were great, but you don't really know what you're getting until it arrives. The work in outstanding and will be a great addition to our house.....
Thank you.
Chris New Mexico USA

Stefan
Verified Reviewer
20th June 2019 12:03pm
Many thanks for the beautiful painting. Only this week we got the painting on our wall as it took some time before it got framed in the shop.
The quality of the painting is even better than expected and our expectation was high.
Many thanks !

Rick
Verified Reviewer
13th March 2015 6:53pm
The painting arrived yesterday in good condition.
The painting is beautiful. My girlfriend loves it and I am very pleased with your workmanship.Thank you!

Michael
Verified Reviewer
22nd March 2014 9:43am
Thanks, the painting arrived and i will examine and order again. A pleasure doing business with you.

Art
Verified Reviewer
19th March 2014 9:25am