Location: Musee d'Orsay Paris France
Original Size: 72.5 x 92 cm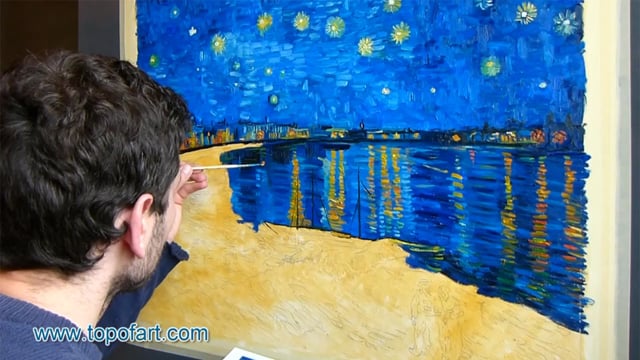 Video of the process of creation of oil painting reproduction in our studio.
You may watch a video showing a painting being made in our TOPofART studio. Hand-painted reproduction: step by step creation of Starry Night over the Rhone by Vincent van Gogh
2 Reviews
5.00 Overall rating
---

Michael Wong
Verified Reviewer
6th May 2022 2:53pm
I wanted to wait for the painting to be framed before writing a review. So now the painting is back fully framed and it just looks amazing. I would have included a photo but am unable to attach. I am really pleased with the results and Mike has been very informative and answered to all the questions. I highly recommend TOPofART to anyone who wants a reproduction painting hanging in the sitting room.

Sean DSouza
Verified Reviewer
14th September 2021 10:44am
The piece is absolutely gorgeous! The paint the artist uses is superb, I have never seen such a deep blue before, the picture looks alive and very warm! Mike was also amazing through the entire process and very communicative. I have ordered reproductions from several sites and Top of Art is by far the best and produces the most beautiful pieces. I highly recommend them and will absolutely be ordering from them for years to come.