Location: Kroller-Mueller Museum Otterlo Netherlands
Original Size: 81 x 65.5 cm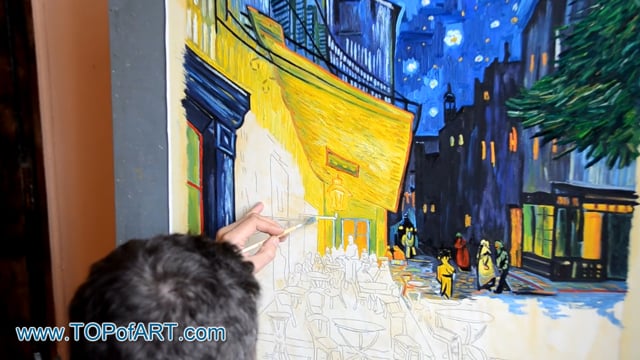 Video of the process of creation of oil painting reproduction in our studio.
You may watch a video showing a painting being made in our TOPofART studio. Hand-painted reproduction: step by step creation of The Cafe Terrace on the Place du Forum, Arles by Vincent van Gogh
7 Reviews
4.86 Overall rating
---

Bart
Verified Reviewer
6th March 2023 5:03pm
Quality is worth the wait. I have four pieces from Michael and three more coming. His work is fabulous. Highly recommend.

Sean
Verified Reviewer
22nd February 2022 10:47am
Just received this artwork and it is absolutely breathtaking. I have purchased cheaper replicas from other companies, but regret it, nothing comes close to what this company produces. Between the paint and the artistry I would argue some of these pieces are more vibrant than the originals. I have purchased 3 pieces so far and will be purchasing many more, I only wish I would have discovered them earlier. Would highly recommend.

Darwin Throne
Verified Reviewer
5th February 2022 7:39pm
The painting arrived yesterday. It's everything we expected. Beautifully executed. The colors are typical Van Gogh - very brilliant. It has special meaning because we had dinner on the terrace upon our arrival in Arles in 1997. We are considering purchasing another painting.

Emil B.
Verified Reviewer
23rd June 2019 1:06am
Good quality painting. Nothing against to have some more. It suits very to what I already have

Art
Verified Reviewer
28th March 2016 9:50pm

Marc
Verified Reviewer
21st March 2014 7:02pm
We receveid the painting today !!! It's beautifull !!!
Thanks a million for your assistance
A happy customer

Linda
Verified Reviewer
21st March 2014 7:00pm
The painting arrived on Tuesday and I am very happy with it.Thank you!