Directory of Art Styles and Movements
This directory of fine art reproductions selected by periods, movements, styles and genres can help you to select the painting which is appropriate for you and also make a short journey into the development and history of art.
Last Added Art Reproductions
Oil Paintings Made to Look Old and Cracked
We are able to make your art reproduction look antique, old and cracked like the original in the museum.
Learn More about the Cracking Effect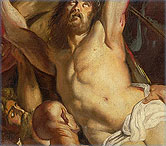 The Most Popular Paintings
Sir Frank Bernard Dicksee Biography

1853-1928

English Pre-Raphaelite Painter


Sir Frank Bernard Dicksee (b. London, November 27, 1853 - October 17, 1928) was an English Victorian painter and illustrator, best known for his pictures of dramatic historical and legendary scenes. He also was a noted painter of portraits of fashionable women, which helped to bring him success in his own time.
Dicksee's father, Thomas Dicksee, was a painter who taught Frank as well as his brother Herbert and his sister Margaret from a young age. Dicksee enrolled in the Royal Academy in 1870 and achieved early success. He was elected to the Academy in 1891 and became its President in 1924. He was knighted in 1925, and named to the Royal Victorian Order by King George V in 1927.