Directory of Art Styles and Movements
This directory of fine art reproductions selected by periods, movements, styles and genres can help you to select the painting which is appropriate for you and also make a short journey into the development and history of art.
Last Added Art Reproductions
Oil Paintings Made to Look Old and Cracked
We are able to make your art reproduction look antique, old and cracked like the original in the museum.
Learn More about the Cracking Effect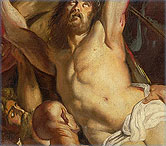 The Most Popular Paintings

Bartolome Esteban Murillo Biography

1617-1682

Spanish Baroque Painter


Bartolomé Esteban Murillo
(1618-1682), the most popular 17th-century Spanish baroque painter. Murillo was born in Seville, Spain, where he learned the prevalent naturalistic painting style of Sevillian painters
Diego Velázquez
and
Francisco Zurbarán
. Murillo's early works, depictions of the Madonna and of the Holy Family, were dry in character, but he soon developed a warm, atmospheric style in which soft, luminous tones and idealized figures gave a pious, sometimes sweet, tone to his painting. This style likely reflects the influence of the major Renaissance and baroque masters of Italy and Flanders, and it characterizes the works that established his fame 11 scenes from the lives of Franciscan saints, which he painted from 1645 to 1646. This style found perhaps its highest expression in the artist's most frequently depicted subject, The Immaculate Conception, of which several versions exist (Prado, Madrid; Louvre, Paris; and elsewhere). Murillo excelled in genre painting, depicting poverty-stricken children in a touching manner, as in
Young Beggar
(1645-1655, Louvre). From 1671 to 1674 he painted several pictures for the Church of the Confraternity de la Caridad, Seville, many of which are now dispersed to museums in Saint Petersburg, Madrid, and London. Murillo was the first president of the Seville Academy, which he cofounded in 1660. He had a flourishing workshop and many students and followers. His works influenced later Spanish painting and anticipated 18th-century European rococo painting. See also Baroque Art and Architecture.
with help of encarta