Directory of Art Styles and Movements
This directory of fine art reproductions selected by periods, movements, styles and genres can help you to select the painting which is appropriate for you and also make a short journey into the development and history of art.
Last Added Art Reproductions
Oil Paintings Made to Look Old and Cracked
We are able to make your art reproduction look antique, old and cracked like the original in the museum.
Learn More about the Cracking Effect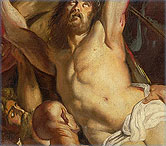 The Most Popular Paintings

Hyacinthe Rigaud Biography

1659-1743

French Baroque Painter


Hyacinthe Rigaud (July 20, 1659 - December 27, 1743) was a French painter.
He was born Híacint Francesc Honrat Mathias Pere Martyr Andreu Joan Rigau, in Perpignan, wich became french a short time after his birth (november 07 1659).
In 1682, he was awarded the Prix de Rome.
He was the most important portrait painter in the reign of King Louis XIV. His instinct for impressive poses and grand presentations precisely suited the tastes of the royal personages, ambassadors, clerics, courtiers, and financiers who sat for him.
Rigaud's paintings captured very exact likenesses and along with the subject's costumes and background details, his paintings are precise records of contemporary fashions. Rigaud's best-known work is his 1701 painting of Louis XIV which today hangs in the Louvre in Paris.
In 1709 he was made a noble by his hometown of Perpignan. In 1727 he was a made a knight of the order of Saint Michael.
Hyacinthe Rigaud died in Paris, France on December 27, 1743.