Directory of Art Styles and Movements
This directory of fine art reproductions selected by periods, movements, styles and genres can help you to select the painting which is appropriate for you and also make a short journey into the development and history of art.
Last Added Art Reproductions
Oil Paintings Made to Look Old and Cracked
We are able to make your art reproduction look antique, old and cracked like the original in the museum.
Learn More about the Cracking Effect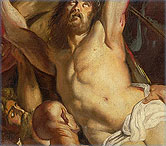 The Most Popular Paintings
Home
/
Process of Hand-Painted Reproducing - Step by Step in Images
Hand-Painted Oil Painting Reproductions - Process of Reproducing: Step by Step in Video and Images
Our painting reproductions are hand-painted with oil on a linen canvas. In the creation of our paintings, we only use high quality oil paints containing only pure pigment and oil, without additional admixtures or fillings. The canvas, the brushes, the mediums, and the protective transparent varnishes that are used by us are in strict conformity with the technological process of the old masters.
All our artists have been academically trained according to European standards, and every one of them is a perfect master in their own field. Some of them are specialists in the art of creating precise paintings with a lot of detail that was typical of the Renaissance artists, while others are specialized in the artistic style of the impressionists. These qualities make them capable of reproducing to the level of perfection the style and technique of any old or modern master.
We do not work with "artists" or studios from the Far East spewing out large quantities of low quality products. We only do work exclusively of a high level of quality, and we never compromise with the quality and degree of detail in our paintings.
Every week, we publish videos of the process of creating our paintings. So far, we have been able to publish more than a 100 videos in our: Please review them below that you may be persuaded of our mastership and high quality.